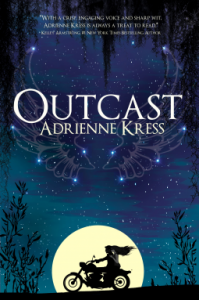 If angels were swooping into your town and taking off with humans, what would you do? Riley's solution is to shoot one out of the sky. As the angel, Gabe, recuperates, Riley sees him in form - that of a hot guy who believes he's still in 1956.
Gabe's adorable, and he soon has all of the girls in town lusting after him. But he's into the plain-spoken Riley. The two are a great match, and Riley is just as much an "outcast" as the misplaced-in-time Gabe. But while Gabe settles into his new life quickly, Riley's awkwardness keeps her on the fringes of the cool crowd.
The story takes a lot of unexpected turns, particularly in the ending, and that was a big part of what made the story enjoyable for me.