Review posted at: Read, Rinse, Repeat
I'll admit it. I did not believe I would love The Fault In Our Stars. Yes, I'd read all of the rave reviews. But a book about kids dying of cancer? And not only would I love this book, but it was going to make me laugh, too? Well, this doubting Thomas is here to tell you that my answers are a very emphatic YES and YES.
"Cancer books suck." So says sixteen year-old Hazel, the wise beyond her years narrator of The Fault In Our Stars, and a cancer...victim? No, she does not view herself as a victim. Sufferer? That doesn't seem quite right, either, because she's focused more on living than on the suffering that comes with cancer. Cancer survivor? I think she'd roll her eyes at anything that attempted to add a false feel-good tone to her certain-to-be short-lived life. So I'll go with this – Hazel is a girl who happens to have cancer. She views her cancer through realistic, but never bitter or self-pitying eyes. As Hazel says, "Even cancer isn't a bad guy really: cancer just wants to be alive."
When we meet Hazel, she is attending a support group for kids with cancer. She attends the group to appease her parents, not herself; she views it as a major nuisance, at best. All the talk of death, the discussions of feelings and fears - Hazel wants none of it. But then she meets Augustus, a newcomer to the group. He's missing a leg, but he's got looks and charm to spare, and he immediately intrigues Hazel.
You will be in love with Hazel before you've finished the first ten or twenty pages. And you will root for this young couple, even though you know one or both of their lives are doomed.
One of the many heart-breaking aspects of this book is the suffering of her parents. I don't have children, but I know there cannot be anything worse in this world than watching your child die. In Hazel's case, the watching and waiting has gone on for several years. Her father cannot participate in a discussion regarding Hazel's cancer without sobbing, and her mother has given up her own life to take care of Hazel's. As much sympathy and love as Hazel has for them, she occasionally gets angry. She lashes out at her mother and pleads with her to find something else to do besides taking care of a dying daughter. After all, once Hazel is gone, what will remain for her mother?
OK, that was a lot of dark stuff, and I promised you some humor. How about these two gems?
- Augustus expressed outrage that a 13 year-old Hazel used her "Make a Wish" on a trip to Disney World. Hazel knew it was lame, but softened the blow by adding that she went to Epcot, too.
- Hazel's friend, Kaitlyn, when discussing Augustus: "I would ride that one-legged pony all the around the corral."
The romance between Hazel and Augustus is one of the most beautiful I've ever read. So much so that I happily overlooked the fact that their dialogue was unlike any that I've ever heard from any teenager (or most adults, for that matter.)
I kept waiting and waiting for the moment that I would need tissues. I thought I had the outcome nailed early on, based on what I thought was a subtle "clue," but I was wrong. We're pulled along to what we believe is the inevitable conclusion until the inevitable gets flipped on its head. And yes, then it was tissue time.
On a personal note, I visited Amsterdam and the Anne Frank House a year and a half ago. I climbed those same, steep narrow steps in the house that Hazel climbed, hauling her oxygen tank with her. Everything that she described brought back intense memories. If you get the chance to visit Amsterdam, the House is a must-see.
Your friendly blogger, outside the Anne Frank House: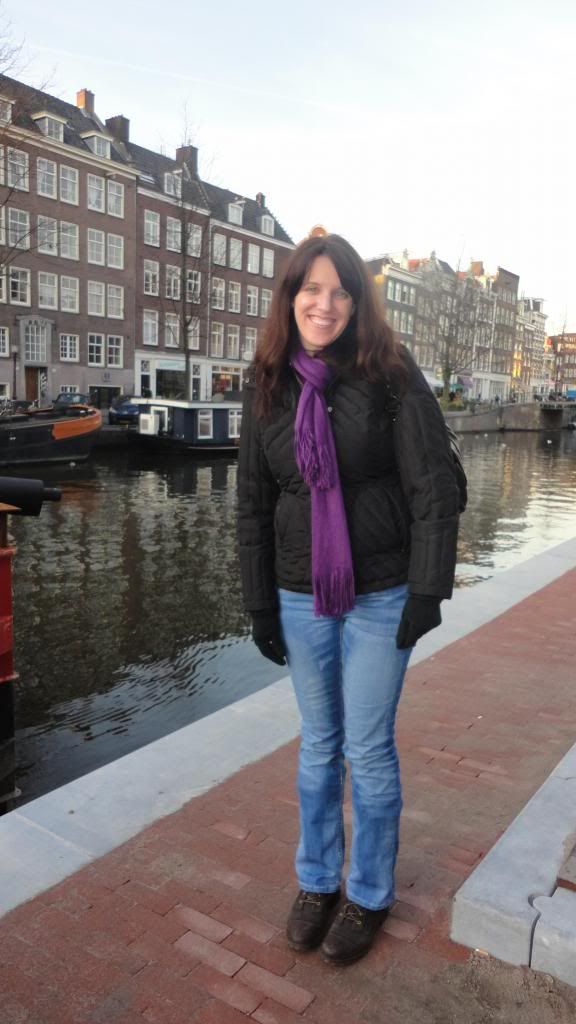 A taste of the beauty in Amsterdam: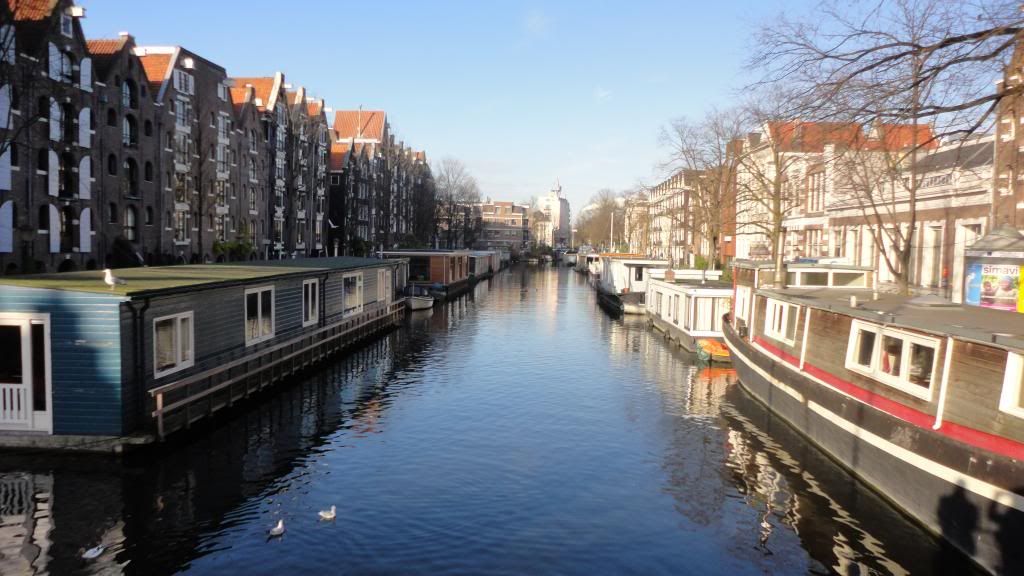 Now, if you haven't read TFIOS yet, then get off this blog and go get it!